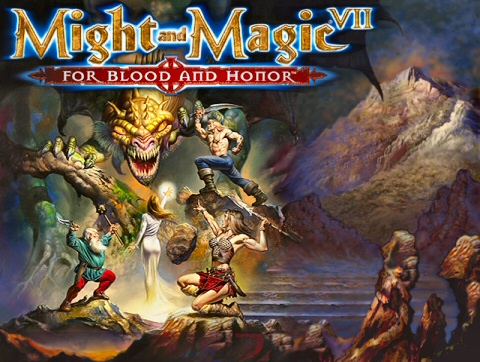 Might and Magic 7— Downloads
Ludmeister's Might and Magic 7 Mod
This modification is my attempt to make Might and Magic 7 even more perfect. Hopefully I succeeded!
Ludmeister's MM7 mod version 1.0 (111 MB)

Updated March 21st, 2012

— This download contains the mod and installation instructions. Originally released December 2nd, 2010.

Downloaded 5369 times


» View change log -->
Please feel free to report any bugs in the editor to me via the contact form. Please include as much detail about the bug as you can (what you have edited, what broke, any leads as to what you think happened, etc.)
Mod installation instructions:
Install Might and Magic 7.
Obviously, you will need a copy of Might and Magic 7 For Blood and Honor to play this mod. If you do not own a copy, or if it has been lost in some undiscovered dusty corner, you may purchase a copy of this game legally, and Digital Rights Management free, at GOG.com. If you sign up as result of clicking this link, you can help keep this website online.
Back up your installation of Might and Magic 7.
Install Greyface's MM7 patch v1.61, available below as a convenience. It should work on any version. This makes MOK's patch obsolete for English versions of the game. This step is a must, because the mod depends on this patch.
Extract contents of the zip file to your Might and Magic 7 directory. These are the files that are replaced:

\Data\Events.lod
\Data\Icons.lod
\Sounds\Audio.snd
\MM7.exe

Additionally, a directory entitled "Music" is created, and these files will play instead of the CD Audio tracks when playing.
Enjoy!
Other downloads
Might and Magic 7 mod Skill Tree spreadsheet (10.4 KB)

Updated March 21st, 2012

— Contains very useful information concerning character skill development and the new attribute bonus progression. You'll need MS Excel to view the file.

Downloaded 3471 times

Greyface's MM7 Patch v1.6.1 (1.39 MB) — Greyface has outdone the MOK patch. By alot. This patch makes the game compatible with Windows XP/Vista/7, and includes a whole slew of other fixes and enhancements, including (but certainly not limited to) running the game in double speed (at the press of a key), and playing looping MP3 music. For English version players, this makes the MOK patch obsolete. See his site for more details. Of course, it should go without saying that this is entirely Greyface's creation, and I claim no rights/credits/etc. to this file. Greyface, if you object to my distribution of your patch, let me know and I'll take it down promptly.

Downloaded 3488 times

MOK's XP patch v1.21 (1.32 MB) — I have kept MOK's unofficial patch for archival purposes. It makes the game more compatible with Windows XP. I have no idea if it is necessary for Vista/7. Thank you MOK for your excellent work on this. All credit goes to him for its creation. I claim no rights whatsoever to this file and it is offered here simply for convenience. If MOK has a problem with this, by all means let me know and I'll remove it.

Downloaded 1704 times
Copyright notice
The content in this portion of the website pertains to "software" known as "Might and Magic", which was the trademark and/or registered trademark of The 3DO Company, and is more recently owned by Ubisoft.