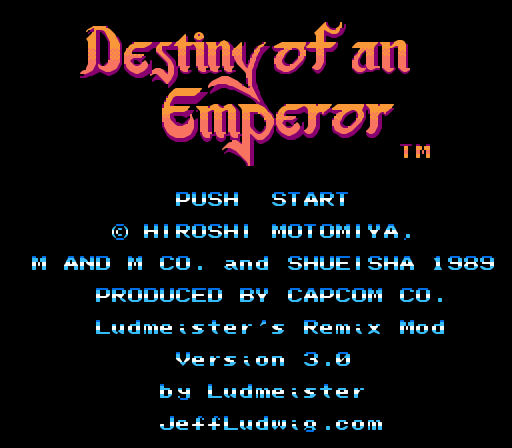 Destiny of an Emperor— Ludmeister's Remix v2.0 Tactic List
Display option: ID
| | | | | | | |
| --- | --- | --- | --- | --- | --- | --- |
| Category | Tactic Name | Slot | Level/Priority | Intellect | TP cost | Target — Effect |
| | Flame | 1 | 2 / 1 | 60 | 2 | 1 enemy— 150 Fire casualties |
| | Blaze | 1 | 11 / 2 | 120 | 4 | All enemies— 300 Fire casualties |
| | Cremate | 1 | 26 / 3 | 175 | 6 | 1 enemy— 4000 Fire casualties |
| | Inferno | 1 | 33 / 4 | 220 | 7 | All enemies— 3200 Fire casualties |
| | Blades | 7 | 15 / 1 | 160 | 6 | All enemies— 600 Physical casualties |
| | Deluge | 2 | 6 / 1 | 90 | 3 | All enemies— 160 Water casualties |
| | Cascade | 2 | 14 / 2 | 130 | 4 | 1 enemy— 720 Water casualties |
| | Flood | 2 | 22 / 3 | 165 | 6 | All enemies— 1500 Water casualties |
| | Tsunami | 2 | 31 / 4 | 225 | 8 | All enemies— 4000 Water casualties |
| | Cyclone | 7 | 35 / 3 | 240 | 10 | All enemies— 6000 Physical casualties |
| | First Aid | 3 | 3 / 1 | 75 | 2 | 1 ally— Heal 200 casualties |
| | Healing | 3 | 13 / 2 | 125 | 4 | All allies— Heal 400 casualties |
| | Remedy | 3 | 20 / 3 | 180 | 5 | All allies— Heal 2000 casualties |
| | Miracle | 3 | 32 / 4 | 235 | 6 | All allies— Heal 8000 casualties |
| | Recovery | 4 | 25 / 3 | 210 | 5 | 1 ally— Heal 25000 casualties |
| | Defense | 4 | 27 / 4 | 230 | 10 | All allies— All damage is halved |
| | Smother | 5 | 5 / 1 | 100 | 2 | All allies— All fire damage is halved |
| | Levee | 4 | 10 / 2 | 150 | 2 | All allies— All water damage is halved |
| | Thwart | 5 | 30 / 3 | 245 | 12 | All allies— Enemy tactics fail for a time |
| | Evade | 5 | 21 / 2 | 210 | 7 | All allies— Enemy attacks fail for a time |
| | Castle | 4 | 4 / 1 | 80 | 1 | Enemy leader— Affects enemy's defensive position within a fortress |
| | Doubt | 6 | 18 / 2 | 185 | 3 | 1 enemy— Enemy officer loses turn(s) |
| | Mislead | 7 | 23 / 2 | 180 | 5 | 1 enemy— Enemy officer may attack his allies |
| | Haste | 8 | 12 / 2 | 150 | 6 | All allies— Chance of striking first within a round increases |
| | Negate | 6 | 24 / 4 | 220 | 4 | Enemy leader— Removes enemy defense tactics, Doubt, Mislead, Haste and Zeal |
| | Behead | 8 | 36 / 3 | 215 | 16 | 1 enemy— Chance to remove officer's force completely from battle |
| | Zeal | 8 | 28 / 4 | 238 | 20 | All allies— All attacks and damage tactics do double damage |
| | Ambush | 6 | 9 / 1 | 120 | 2 | 1 enemy— One extra attack while effects last |
| | Escape | 8 | 8 / 1 | 100 | 1 | Enemy leader— Run away from battle |
| | Return | 6 | 16 / 3 | 210 | 5 | Enemy leader— Return to Liu Bei |
Notes
Tactics which do Water damage require a water source (cave water will not do) to work.
Tactics such as Negate, Escape, Return, and Castle target the Enemy Leader. This means that the tactic user's Intellect is pitted against the Enemy leader's intellect in determining tactic success.
Copyright notice
Destiny of an Emperor is copyright 1989 by its creators, produced by Capcom Co. Inc. and Capcom U.S.A., and licensed by Nintendo of America.